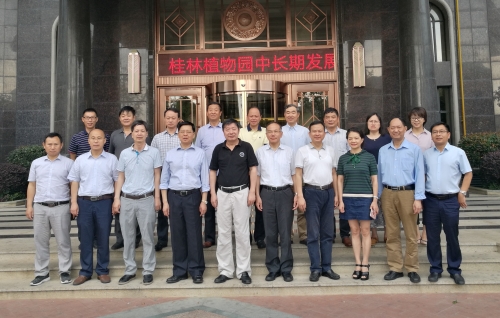 Composed of members of Botanical Garden Working Committee of Chinese Academy of Sciences as expert group, they gathered in Guilin to review the long-term (10 years) development plan for Guilin Botanical Garden on May 18. Prof. Chen Jin, director of XTBG and director of BG Working Committee, served as the head of the expert group.
Guilin Botanical Garden, a dual-led botanical garden by Guangxi Zhuang Autonomous Region and Chinese Academy of Sciences, has been devoted to the research on the conservation and sustainable use of wild plant resources in Guangxi. It focuses on the collection and conservation of limestone plants, indigenous plants in Guangxi, and rare and endangered plants. However, all those non-substitutable characteristics still couldn't come into full play because of the lack of scientific developing strategy. It is hoped that the expert group could hit the mark and give practical and farsighted advices to satisfy the priority needs of serving local economy.
Centered on its planning principles, strategic positioning, overall layout, and detailed development plans, the expert group reviewed and raised constructive suggestions focused on the specific issues.
Huang Shixun, Secretary of the Party Committee of Guilin Botanical Garden, expressed his gratitude to the long-term concern and support of the CAS Botanic Garden Working Committee. They will modify the plan after the meeting.